whalen speed green | club
turbocharger
Package
Welcome to Our Turbocharger Custom Builder Page.
Choose from our solid and reliable Forced Performance Green Turbocharger
or the outstanding Garrett Club Turbocharger.
Both provide Exceptional Horsepower Gains with Control and Drivability that
You expect from Whalen Speed.
Every single detail is thought out, we leave nothing behind.
Our performance parts are true to spec and developed for Race Wins and all Riding Styles.
Whether your on the West Coast Dune Riding and Racing,
the Mountains of United States, the Trails in Upper Midwest,
or any Short Course Track,
Our Turbocharger Builds will not disappoint!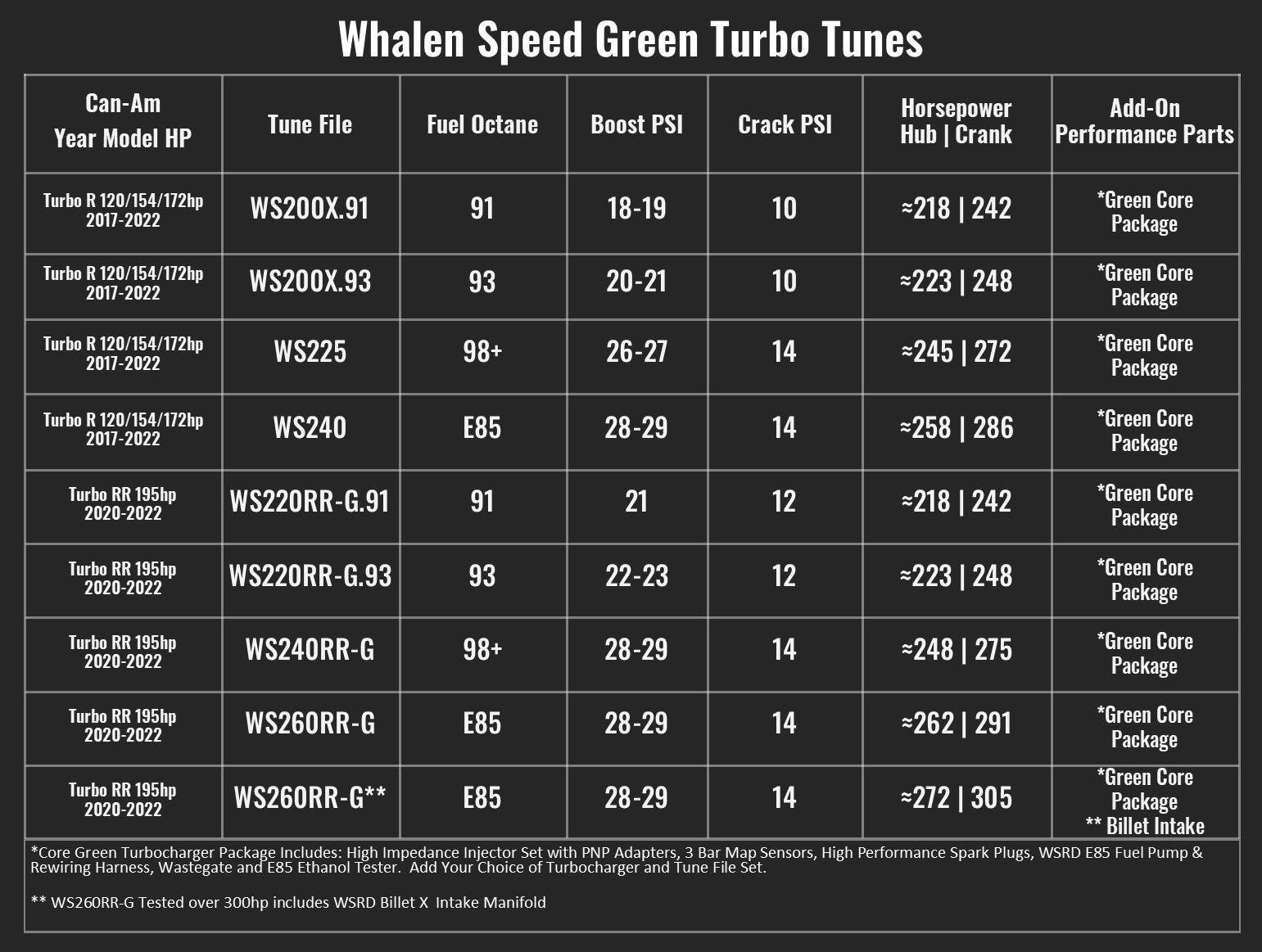 Tuning information:
ECU Calibrations
4 Tune Files Included: 91 | 93 | 98+ | E85 Octane Levels
Preloaded on DynoJet PV3
Remote Cloud Based Setup on RTD Flash Device
Benched Flashed In-House when indicated
Motec PNP Kit Remote Setup
crack pressure setting:
Wastegate Crack PSI
You will receive instructions for Crack Pressure Settings
Please view our You Tube Video Link found on this page for easy installation
Email for Tune Info: tunes@whalentuned.com
Includes 4 Tune Files: 91 | 93 | 98+ | E85
Preloaded on Device, or Single Fuel Inhouse ECU Bench Flash where applicable.
Fuel Pump & Rewiring Harness

Drop in Fuel Pump with Required Harness.
Upgrades to 20 amp Fuse (included)
Injector Set & PNP Adapters

High Impedance 1050X Injectors with PNP Adapters
Includes Boost and T-Map Sensors
Factory Replacement Wastegate
High Horsepower Capable, Pre-Gapped Out of the Box
Add Only What You Need!
Not sure?
Contact out knowledgeable Sales Staff
for the right answers for you Machine Setup.
Email: Sales@whalentuned.com
Use the Chat Button at the Bottom of this page.
Call: (269) 415-0040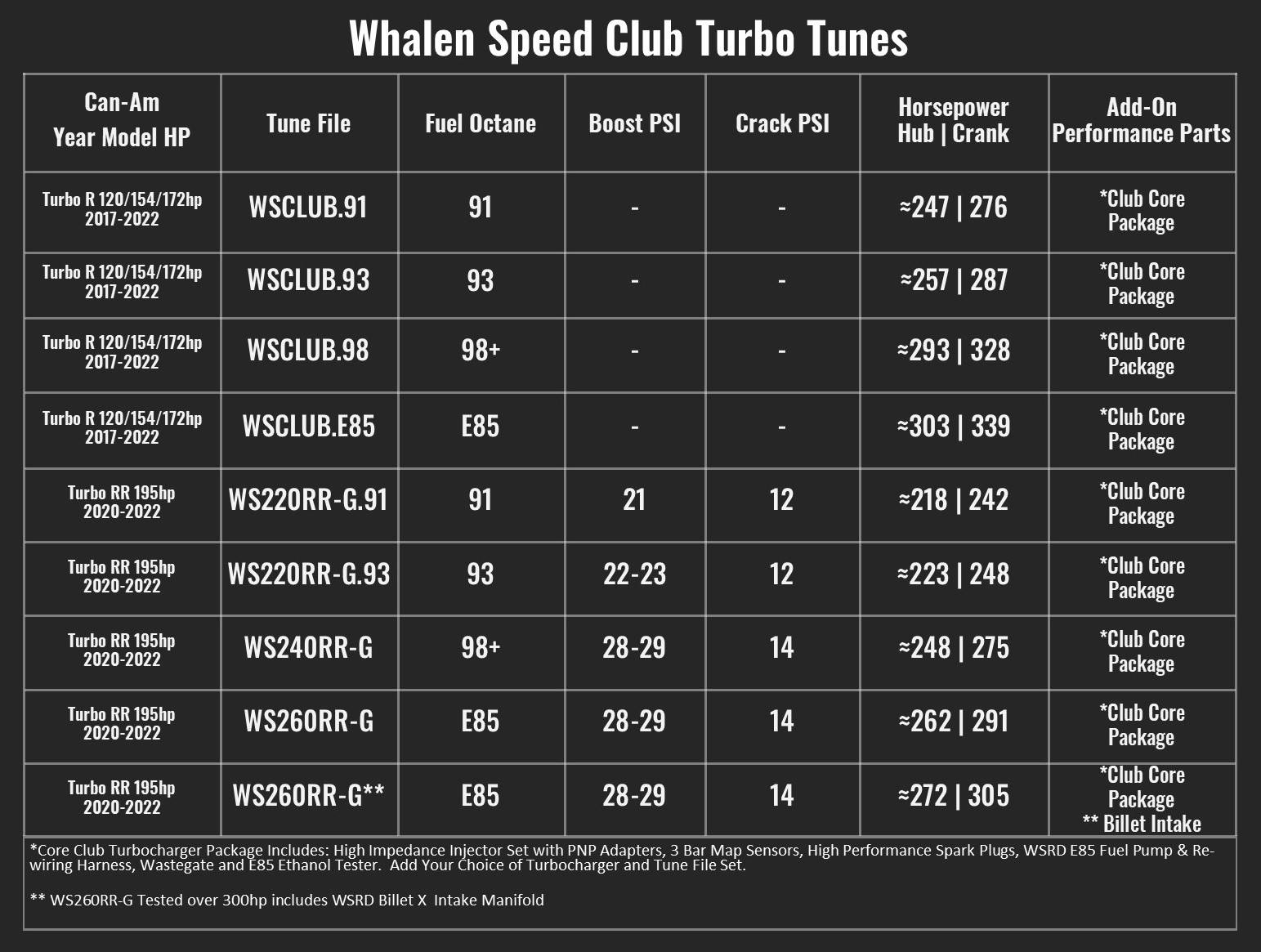 Tuning information:
ECU Calibrations
4 Tune Files Included: 91 | 93 | 98+ | E85 Octane Levels
Preloaded on DynoJet PV3
Remote Cloud Based Setup on RTD Flash Device
Benched Flashed In-House when indicated
Motec PNP Kit Remote Setup
crack pressure setting:
Wastegate Crack PSI
You will receive instructions for Crack Pressure Settings
Please view our You Tube Video Link found on this page for easy installation
Email for Tune Info: tunes@whalentuned.com
Green and Club Turbocharger Package Product Links
Click On Picture For Details