whalen speed | can-am
big turbocharger packages
Experience counts when your upgrading on this level
Have your build completed at Whalen Speed Headquarters in Michigan,
or at one of our Nationwide Network of Dealers.
Please explore this page for Turbocharger Package Options, Whalen Speed is ready to make it happen.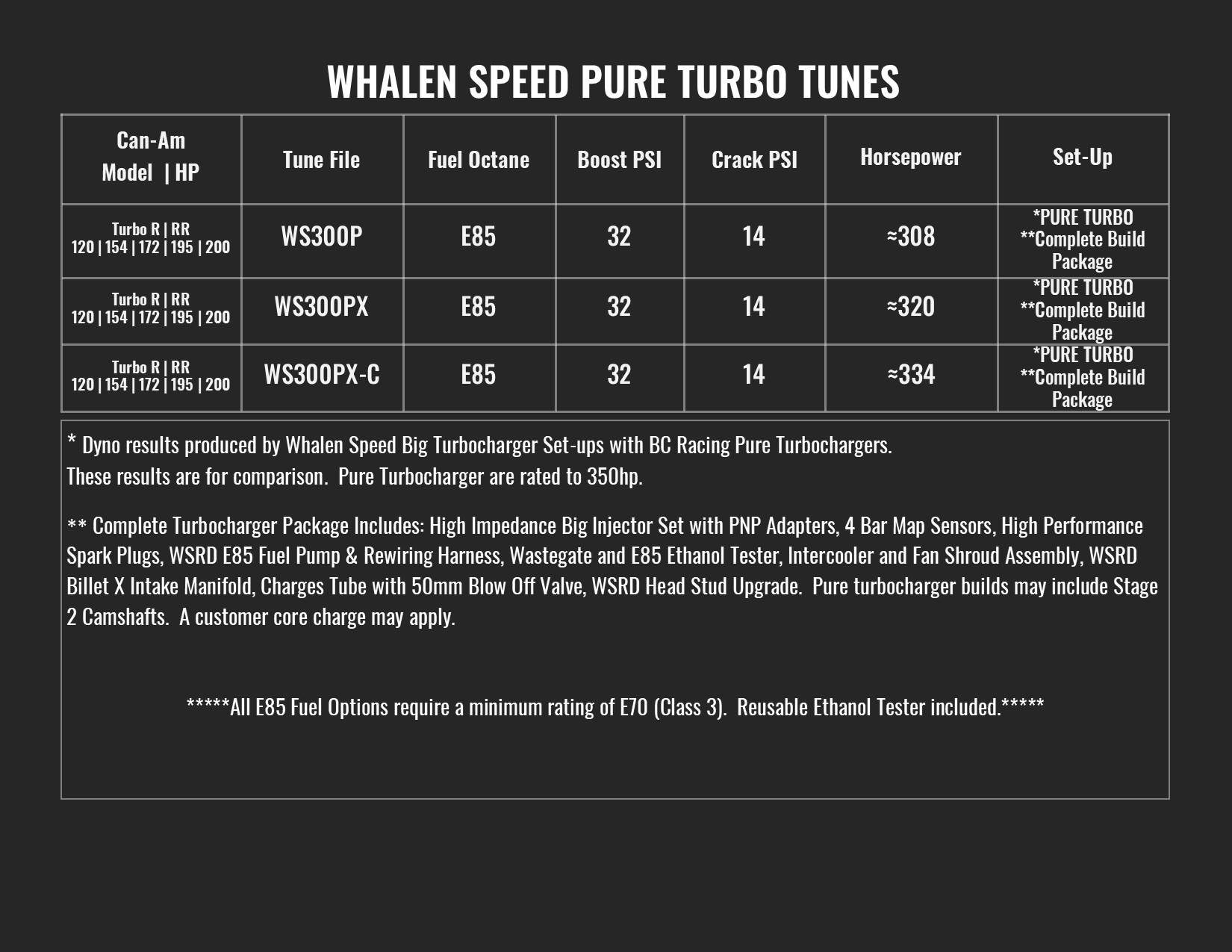 PURE:
Turbocharger Features
Compressor Wheel OE X3 (21-UP) | Inducer 36mm
PURE CNC Milled Wheel | 42mm | 6 Full, 6 Splitter Blade Configuration
OE X3 Turbine Wheel | 36mm
PURE Wheel | 42mm | Geometric Design for Increased Max Flow
Journal Bearings Improved for High Boost Durability, added Reliability
Housing | CNC Machined Centers | Accommodates Larger Wheel | Improved Flow
Can-Am X3 2017 and Newer | Requires Turbo RR Core and ECU Calibrations
May Require WSRD BC Stage 2 Camshafts
Customer Core Charge May Apply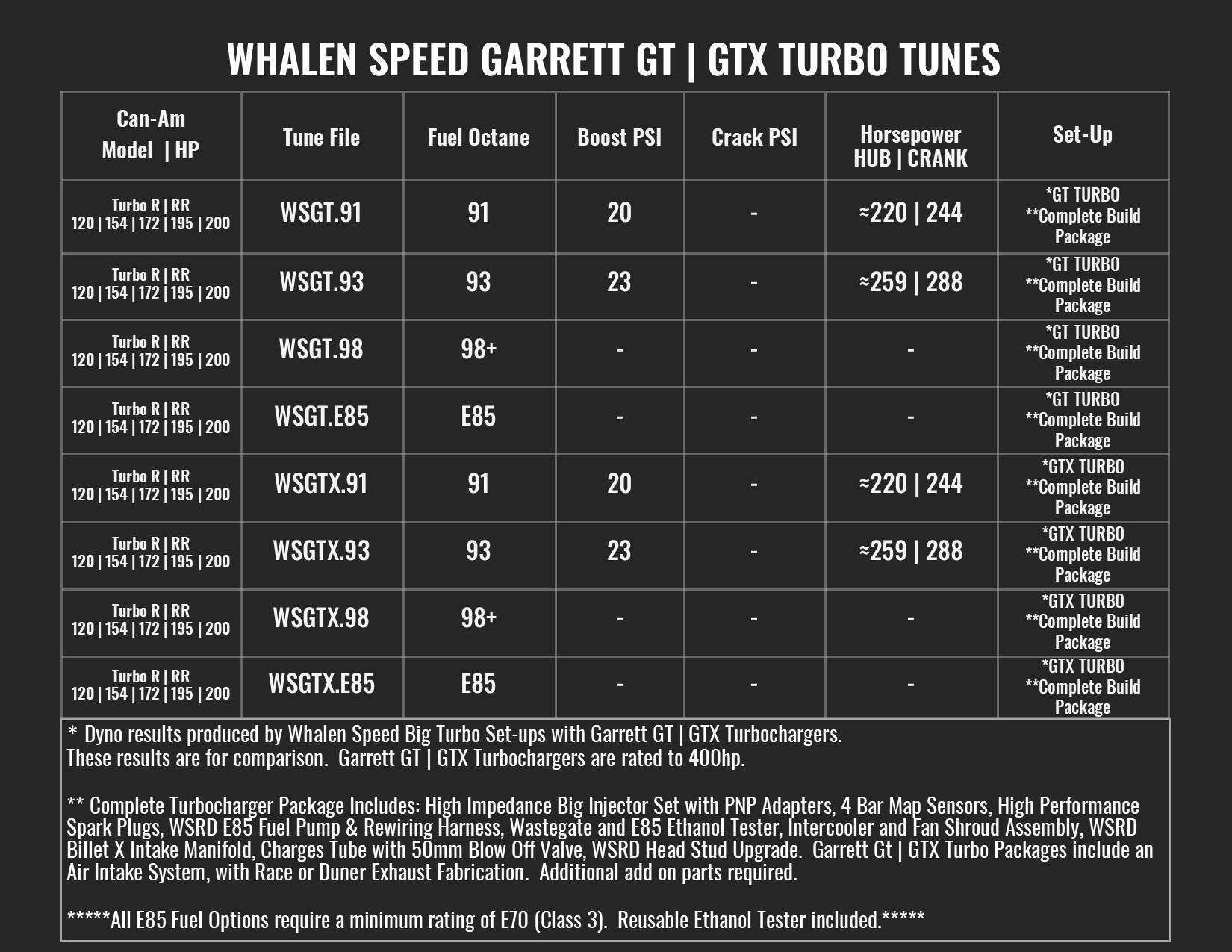 Tuning information:
ECU Calibrations
4 Tune Files Included: 91 | 93 | 98+ | E85 Octane Levels
Preloaded on DynoJet PV3
Remote Cloud Based Setup on RTD Flash Device
Benched Flashed In-House when indicated
Motec PNP Kit Remote Setup
crack pressure setting:
Wastegate Crack PSI
You will receive instructions for Crack Pressure Settings
Please view our You Tube Video Link found on this page for easy installation
Email for Tune Info: tunes@whalentuned.com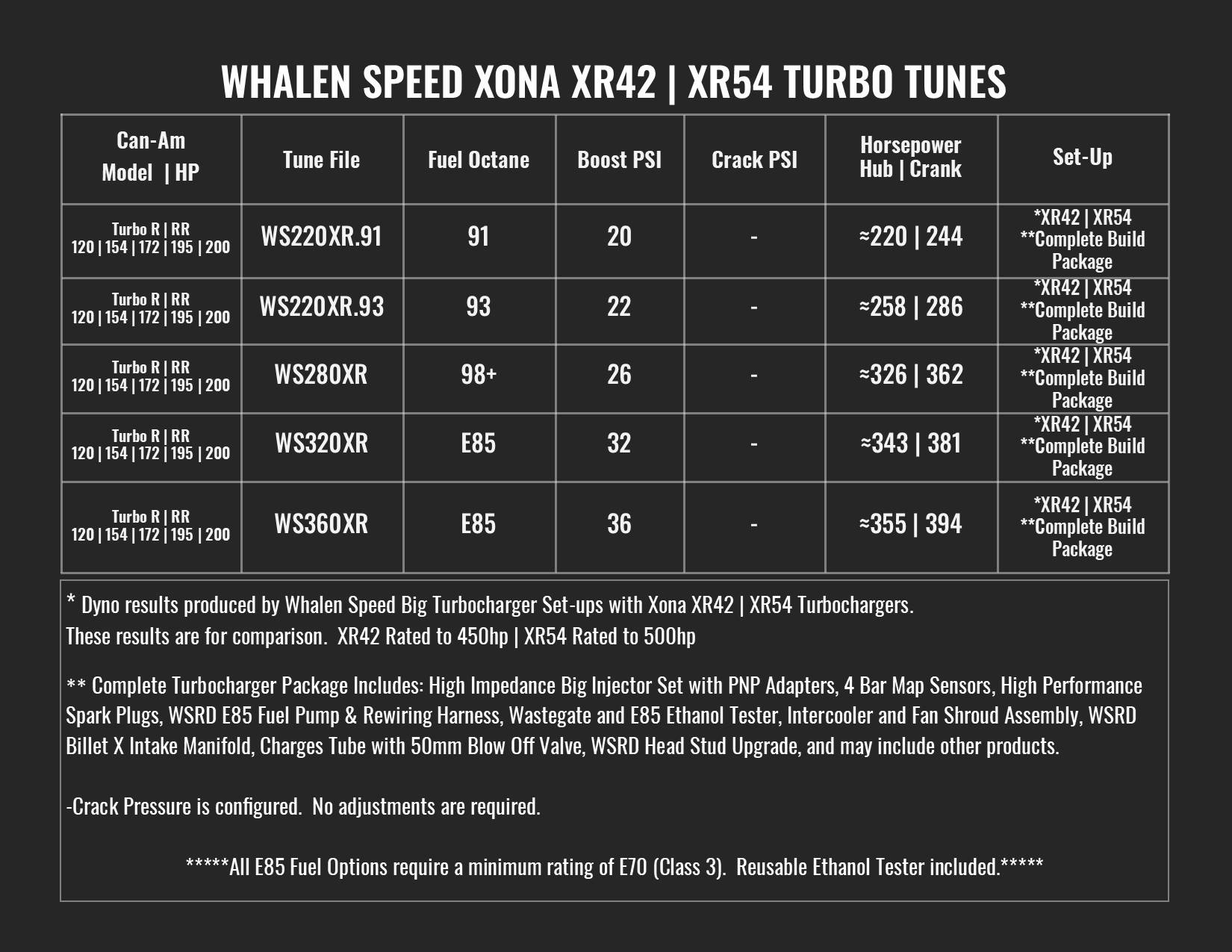 XONA rOTOR XR42 | 54:
Turbocharger Features
Customized to adapt new Turbofold > Increased Exhaust Flow over the unit > Easy Bolt on Application
Machined Integration of OEM Oil Feed, Oil Drain and Coolant Lines.
Whalen Speed Installation Kit provides adaptation to Intercooler
Tial Wastegate Pre-Installed
Surge Pert X2C Compressor Cover
Rated up to 420hp | 42 lb/min Flow Rate
Compressor Wheel: 49.5mm Inducer | 68mm Exducer
Exhaust Wheel 48mm
Intake Inlet 2.375" | Compressor Outlet 2" | X2C Inlet 3.0" | X2C Outlet 2.0"
Rated up to 570hp | 54lb/min Flow Rate
Compressor Wheel: 52mm Inducer | 71mm Exducer
Exhaust Wheel 51mm
Billet Stainless Steel Lightweight Housing | Dual Ball Bearing
Intake Inlet 2.375" | Compressor Outlet 2" | X2C Inlet 3.0" | X2C Outlet 2.0"
Includes 4 Tune Files: 91 | 93 | 98+ | E85
Preloaded on Device, or Single Fuel Inhouse ECU Bench Flash where applicable.
Fuel Pump & Rewiring Harness

Drop in Fuel Pump with Required Harness.
Upgrades to 20 amp Fuse (included)
Injector Set & PNP Adapters

High Impedance 1300X Injectors with PNP Adapters
Includes Boost and T-Map Sensors
Factory Replacement Wastegate
High Horsepower Capable, Pre-Gapped Out of the Box
Add Only What You Need!
Not sure?
Contact out knowledgeable Sales Staff
for the right answers for you Machine Setup.
Email: Sales@whalentuned.com
Use the Chat Button at the Bottom of this page.
Call: (269) 415-0040
wHALEN sPEED bIG TURBOCHARGER Package Product Links
Click On Pictures For Details